Being a girly girl is a tough job.  I should know.  I was the definition of one.  5'5", 115 lbs.  Long sandy blonde hair that hung just above my waist with layers that started at my collar bone and got longer and longer to the back.  I wore dresses and heels, or preppy jeans with cute tee shirts and sneakers.  My ears were pierced once on each side. I wore makeup with light tones and brighter colors to make my brown eyes stand out.  My name is Emily and I am a pretty, preppy girl.
At 26 years old dating guys around my age that just want to stare at social media and play video games all day, what else am I supposed to do?  Then I met Jim.
Jim was different than any other guy I dated.  He was a developer, and very professional.  He was 40 and definitely more established.   He had a routine about him and he wasn't into media and what society thinks is in style.  He liked what he liked.  And he didn't mince words when it came to explaining it.  For once I felt like I could open up about what I really wanted in a relationship and I knew that he would always be clear about what he wanted and liked too.   
One day we were texting back and forth flirtatiously and started getting into some kinks and what our fantasies would be about each other.  It was then I found out about what he really liked.  And I opened myself up to what really turned me on as well.  Apparently, he has a thing for shorter hair.  Specifically, he liked the idea of being able to see my neck and shoulders without hair being over it.  It made sense to me now why he liked me to put my hair into pigtails when we had sex.  Sometimes he would grab them like reins and pull on them when he was riding me from the back.  It hurt a little, in the best way possible.  But it also opened up something I didn't realize was there.  I wanted to be dominated in bed.  And he had some ideas that would drive me wild. 
So I had an idea.  I booked an appointment with my hair stylist Heather.  I was ready to step out of my comfort zone and show Jim that I could embrace his fantasy.  I had an inspiration picture to show Heather and she was surprised that I was wanting to do something different with my hair rather than the usual trim and highlights.  She stated by pulling my hair into a low ponytail and sniping through it at the middle of my neck.  The crunching sound of the scissors resulted in hair falling onto my shoulders and reaching down to my collarbone at the front.  It was kind of shocking but also felt amazing.  She shampooed me and then worked on bleaching and toning my hair until it was the color of blonde that was in the picture I showed her.  The finished product was so much shorter.  My shortest layer of hair before was now my longest hair I had.  It was a long bob and it showed half of my neck from the back and was so much lighter and bouncier.  Jim was going to love it.
And man did he love it.  We had some of the best sex we've ever had that night.  I got home earlier than him and put on a really large tee shirt with one of my shoulders coming out of the collar.   When he walked in from work, I met him at the door and asked what he thought.  I swing my head around to show hime the cut in motion and turned around so he could see the back and my newly exposed neck.  He grabbed me and took me straight to bed and held my hands by my wrists above my head while he pumped me harder than he ever had before.  
I noticed in the month following every time we kissed he would run his hand up the back of my head and into my shorter hair.  Sometimes he would grab the back of my hair while fucking me from behind and squeeze it into his palms while he came.  It turned me on to have him being so dominant.  And he also bought me a present to address my fantasies as well.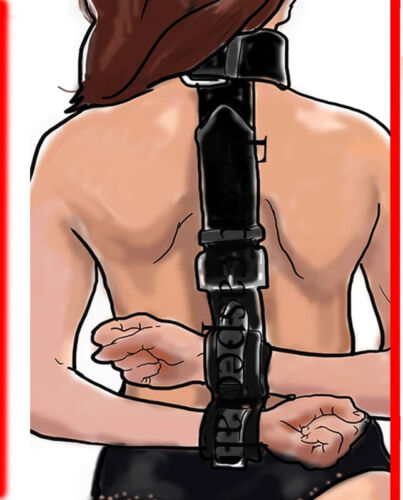 The cuffs made me wet as soon as I looked at them.  It was an addition to his dominance that I had always secretly wished for.  When he put the collar around my neck, he had to pull some of the longer front sections of my bob out from it so that it could swing freely while I rode on top of him.  He was manhandling me and I loved every second of it.  He would grab the longer hair at the front and pull me down to kiss me while I came all over his cock and he put one hand into the back of my hair and grabbed it hard as he was releasing his load.  We had a kinky sex life now, and it was just getting started.
I loved the haircut that I had received from Heather but it quickly started showing signs of grow out at the roots.  I explained my dissatisfaction with it to Jim and he told me he thought I would look great with my hair closer to the color I had before.  He liked any color of hair, as long as it was short enough to show some neck and shoulders.  He loved the way it moved about when I raised my chin up or looked down so it looked even more drastic of an angle from back to front.  So I had another idea.  I booked another appointment with Heather and found another inspiration picture to show her what I wanted to look like.  I was starting to get excited to be changing and my attitude toward being a girly girl was starting to change as well.  I needed to get some new clothes, but first the hair had to be done.
I let Heather see the picture and she was a little surprised that I already wanted to change things up as the first cut was a pretty drastic one and it had only been about 6 weeks since I had become a long bob blonde girl.  This time was similar to the last in that she tied up my hair in a ponytail, or maybe it was more of a nub, at the back of my head but this time it was secured at the hair line.  She ravaged through it once again and my hair now fell a little below my chin and the sides exposed my shoulders.  She then went through a color process back to some darker shades and dampened me off to finish the cut.  Section by section she cut with precision so that I had a new sharp angled line.  This time falling from below my chin to the base of my hairline with some shorter layers in the back to give it more bounce.   The finished product brought an edgier smile from me as I looked into the mirror and turned to see the sides and the back a little closer.  I reached up where there used to be hair to grab in the back and it was too short to grab at the base.  I cupped it up back there to give it a little poof of volume and thanked Heather for giving me exactly what I wanted.  This time instead of straightening the hair, I styled it a little scrunched to give it some waive and texture.
Then I went shopping.  I bought some rocker tee shirts, some torn up jeans, some Chuck Taylor Allstars, Doc Martin boots and some netted leggings and sleeves to contribute to my newer punkier look.  I also went by the piercing store in the mall and added another piercing to each of my ears, with one in the middle section of my ear and had a stud put in my nose.  I was ready to Jim and have him do whatever he wanted to his new fashioned girl.
When he got home that night, he dropped his backpack and grabbled me by the neck and pushed me onto the couch.  He kissed my neck and shoulders and then moved to my mouth while his hand explored my new soft hairline at the back.  It turned me on so much I just told him to take me right then and there.  He spun me around and I went an my knees and elbows on the couch while he pounded me from behind.  He reached forward and plunged his fingers into the back of my hair and I gushed harder than I had the first transformation.  Then right before he finished, he pulled out and grabbed my shoulders and spun me around to face him again.  I told me to open up and I stretched my lips around him and put my chin up while he blew it all down my throat.  It was forceful but turned me on something fierce and I knew he approved of my new style.
Things continued to be great in bed and I was enjoying being submissive for my man.  I wasn't a long haired preppy girl anymore and I felt the urge to continue my metamophasis even further.  In the next month, I booked a couple of appointments.  The first being with Heather of course and I wanted to go even more drastic with my look.  I also booked an appointment with a piercer and decided to get a couple of new holes as well.  Heather was not surprised this time when I showed her the picture for my next cut.  She actually laughed and told me I was probably going to be a short haired girl now.  This time, there was no hair to tie up.  She started again at the back and used clippers to bring the line up a couple of inches above my hair line.  She snipped and layered the rest so that I now had a short bob cut.  The color we went with was darker, and much more bold.  When she finished with my hair she did my makeup for me with a really dark smoky eye and darker lipstick to accent the new dark hair color.  I licked my lips in satisfaction when she showed me the mirror.  I was becoming who I was meant to be.  It made me feel confident and sexy.  Yet it turned me on rotten to know what Jim would do to his new, almost Goth girl.  Looking one last time in the mirror I turned so Heather could get a shot to put in her portfolio.
The next stop was piercing.  I had another hold done into my left ear and asked if I could begin the gauging process on my original holes.  I wasn't sure how large I should get them but we started with just a little larger hole than was in my inner ear.  It hurt at first but made me kind of hot as well.  I then had a stud punctured into my tongue.  It would need a few days to heal so I wouldn't be able to use it as I wished quite yet.  But I was excited to be turning into Jim's fantasy sex toy.  And he absolutely loved my new hair.  He couldn't keep his hands out of the back and I loved feeling his fingers run through the bristly hairs back there.  I rode him reverse cowgirl the first night so he could stare at the base of my head and when I looked down to see him ramming into me, I got turned on by the new short hair that fell over my face.  I was a different person.  Long gone was the preppy good girl with the long hair and dresses.   Fishnet under garments and punk clothes were my new best friend.  I felt alive and never wanted to go back to being that normal girl again.  I have ideas already turning in my head for the next steps, but first this tongue needs to heal so I can use it to its full potential.  I am Emmy now and I am a badass, punk girl. 
The End… For now…